Last updated on August 20th, 2022 at 09:49 am
Red Dye 40 is a synthetic food dye that makes foods look more appealing. Food dyes are man-made with chemicals derived from petroleum.
Petroleum is a crude oil product, which is also used in gasoline, diesel fuel, asphalt, and tar.
You may be surprised to learn that Red Dye 40 is an ingredient in many American foods.
Avoiding food dyes is harder than you might think. For instance, red dye is found in more than just products that look red or pink.
Red Dye 40 lurks in foods you would not expect, for instance, white frosting, yogurt, and barbeque sauce!
Why Do Products Contain Red Dye 40?
Food manufacturers know what sells. Color sells.
Using synthetic dyes like Red Dye 40 makes food more appealing to consumers, especially children.
The next time you are in the grocery store, look closely at where the artificially colored cereals are located. You'll find them to be at children's eye level. Designed inside and out to entice them to eat these beautifully colored foods.
Instead of eating a rainbow of healthy foods like fruits and vegetables, diets now include a rainbow of synthetic dyes.
We shop with our eyes; the more color, the better it must be. Except synthetic colors like Red 40 are about as far from natural as one can get.
What Foods Contain Red Dye 40?
Types of food that often contain Red Dye 40 include:
Baked Goods
Bread
Cake Icing
Cake Mixes
Candies
Canned Foods
Cereals
Cheese
Chips
Chocolate
Cookies
Crescent Rolls
Fruit Cups
Granola Bars
Gummies
Ice Cream
Juices
Macaroni and Cheese
Oatmeal Mixes
Pancake Mix
Pickles
Popsicles
Salad Dressing
Sauces
Soups
Spaghetti Sauce
Spices
Syrups
Yogurts
Common Foods With Red Dye 40
Here is a list of foods that contain Red Dye 40.
This is a very small sample list. It can be found in hundreds of different foods. So please read your labels.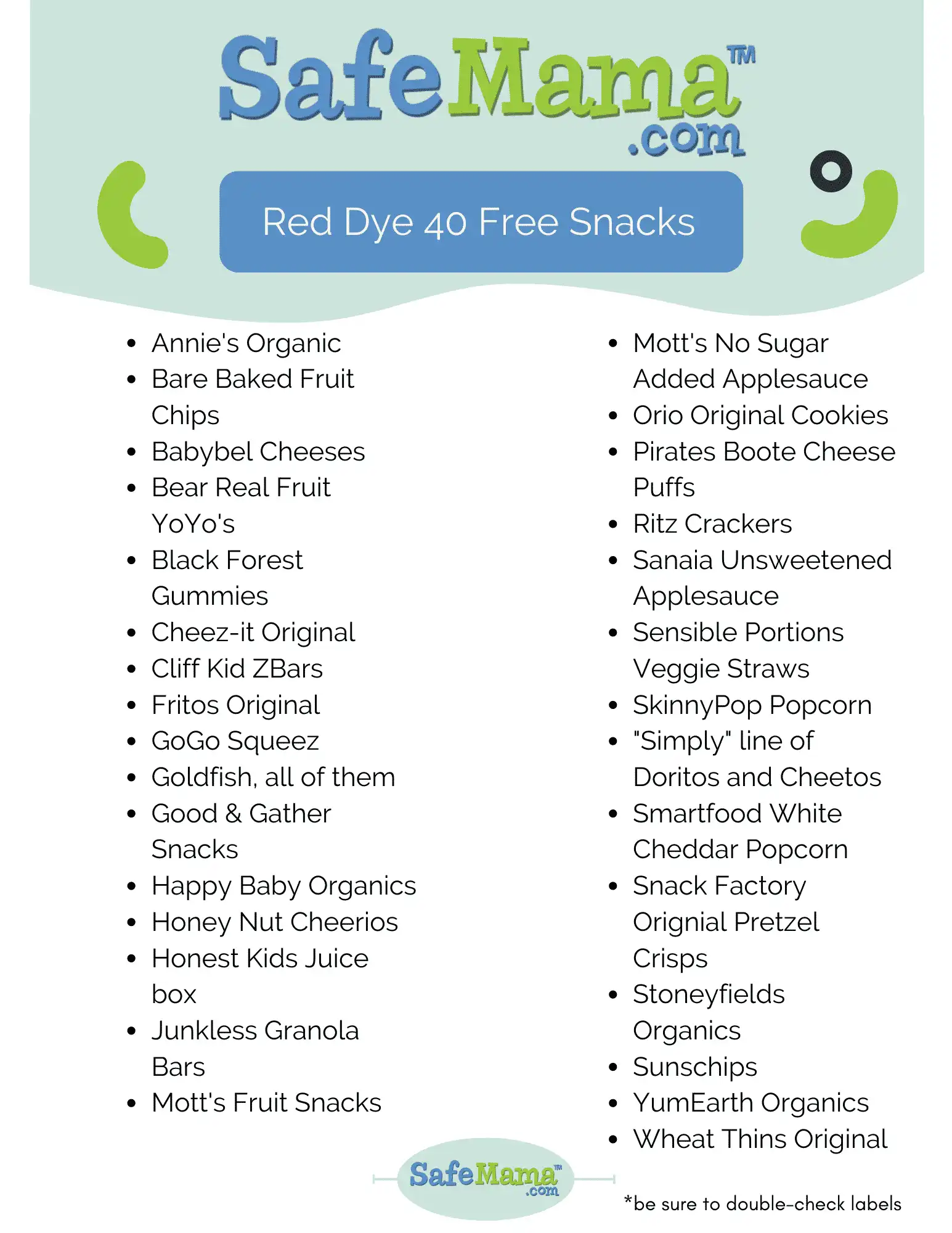 Is Red Dye 40 Bad For You?
Red Dye 40 is made from petroleum. Yep, the same stuff that powers your car. Petroleum in the food and cosmetic industries is often referred to as mineral oil.
Currently, seven synthetic food dyes are still approved for use by the FDA.
These include:
Red #3
Red #40
Yellow #5
Yellow #6
Blue #1
Blue #2
Green #3
Orange B
Citrus Red #2.
Just because the FDA has approved something as safe doesn't necessarily mean it is safe. BPA was said to be safe for many years, even while studies proved left and right it was a harmful endocrine disrupter.
It took years for the FDA to change its position on BPA in some products. And that is just one example.
Moms have seen a noticeable difference in their child's behavior when eliminating red dye from their diets.
After consuming foods with Red Dye 40 some children and adults have experienced:
irritable even to the point of aggression
headaches
ADHD symptoms
stomach aches
blurred vision
Is Red Dye 40 Listed On Ingredient Labels?
The FDA requires synthetic food colors to be listed on food labels. But, be aware that Red Dye 40 can is known by several names, including FD&C Red No. 40, Allura Red, Red Lake 40, and Allura Red AC.
Here is a link to the FDA requirements.
How To Avoid Red Dye 40 In Foods
Read All Labels. Just because it's not red doesn't mean it doesn't have Red Dye 40. Just think of the colors you learned to create in Kindergarten. Red and Yellow make Orange. The point is it's in a lot more than just red products.

 

Choose foods with the USDA Organic seal. To receive this seal, foods cannot contain synthetic dyes.
Cook whole foods from scratch. You'll still need to read labels, but over time it gets easier to know what to avoid.
Take a look at your personal care products. Toothpaste is just one example.
Ask for prescriptions that are dye-free.
Ask your family and friends to support your efforts to avoid synthetic food dyes.
Substitutes for Artificial Food Dyes.
Natural food coloring derived from fruits and vegetables is the best substitute.
Additionally, Carmine is another red food coloring, but it is derived from is from crushed-up bugs.. It's much more expensive and labor intensive than manufacturing.
Further Reading and Research on Synthetic Dyes:
List Of Dye Free Water Flavors
National Library of Medicine, Artificial Food Colors and Attention Deficit (external link)
Seeing Red (external link)
Check Your Perscription Drugs for Food Dyes at RX List